The flowers that blossom beautifully in the park cannot be overlooked at Takino Suzuran Park. Many flowers bloom in every season and they entertain visitors throughout the year.
※Only cash (Japanese yen) can be used in the park. Credit cards can not be used.
※There is no ATM in the park.
※公园内只能使用现金(日元)。 不能使用信用卡。
※公园里没有自动取款机。
Let's enjoy the Country Garden!
The countryside that represents Hokkaido's idyllic and splendid countryside (country) which has the theme of "Northern life with flowers and green" spreads out before you. Enjoy the expressions of flowers in four seasons. Why don't you come and enjoy with your family the beautiful seasons surrounded by vivid flowers? Flowers swaying in the breeze await you.
In the Country Garden, idyllic and splendid countryside (country) is expressed with the theme of "Northern life with flowers and green".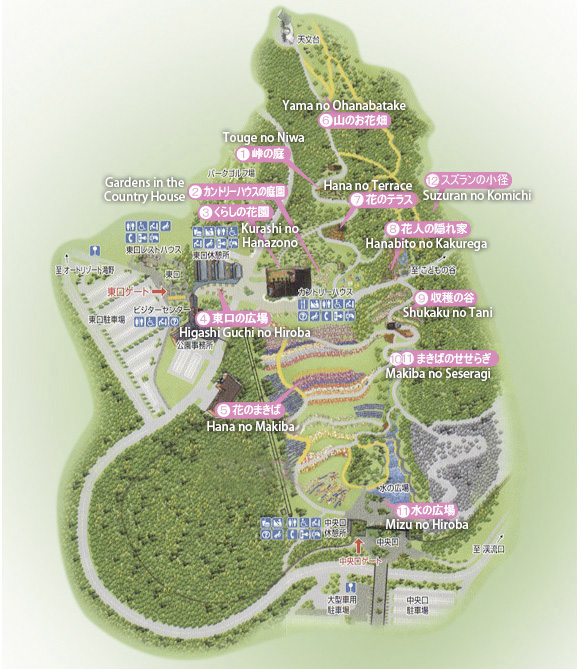 1 Touge no Niwa

About 2,500 kinds of alpine plants from not only Hokkaido but also from round the world can be seen close to nature. Please look at lovely alpine plants.
2 Gardens in the Country House

Hanging baskets on walls and columns, planters of seasonal flowers and conifers, and various kinds of perennial plants creates views unique to the Northern Regions; you can enjoy flowers from four seasons and all leaf colors.
3 Kurashi no Hanazono

There are plants that are connected to daily life; mainly various kinds of herbs are grown on the roof of the Country House.
4 Higashi Guchi no Hiroba

There are various kinds of group plantings with trees and flowers that indigenous to the northland such as Japanese Spruce trees that are green all year, and lilies of the valley await you.
5 Hana no Makiba

A gentle slope with lovely belts of flower looks just like a postcard.
6 Yama no Ohanabatake

Against the background of a magnificent mountain range, flowerbeds spread out in every season. The path in the forest is popular as a refreshing promenade where you can enjoy flowers.
7 Hana no Terrace

Built to express the harmony of flowers that decorate each terraced level.
8 Hanabito no Kakurega

A house owner who is secretive and loves flowers work diligently with affection. That is an image of the atmosphere for this space.
9 Shukaku no Tani

Various kinds of crops are grown each season like blueberries, buckwheat, hops, and others.
You can enjoyably learn about the growth process of plants that support our life.
10 Makiba no Seseragi

This is in the theme of a spring at a foot of a mountain. Starting from a big community of daffodils in the spring, turns to flower irises and irises color refreshingly in the summer.
11 Mizu no Hiroba

A waterside with falls welcomes you. There is abundant green and it is full of openness surrounded by a stone-paved open space.
12 Suzuran no Komichi

Fifty thousand bulbs of lilies of the valley are full in bloom in the birch forest. Breezes waft with the scent of lilies of the valley.
Let's enjoy wild plants!
Various kinds of plants can be seen anywhere in the park. The plants in the Country Garden are fine, but blooming seasonal plants are a feast for your eyes.
Heisei no Mori

This place can be called Takino's paint box because it is full of blossoms in white and pink such as skunk cabbages, lilies of the valley, dogtooth violets, and ground pink.
From Keiryu Guchi to Open Space

You can see many lovely plants such as ezomurasaki Azalea, ezo yamasakura, Chrysanthemum chestnut, and hitorishizuka.
Suiji Enshoku Hiroba (Cooking Area)

Near the cooking area where brisk voices echo, plants like baneberry and Japanese primroses can be seen.
Masumi Guchi

Plants like shiurizakura and ezokaramatsu can be seen.
Ashiribetsu Fall

Ashiribetsu Fall is known as masculine and one of the biggest falls in Sapporo., agrimonys.
Ashiribetsu Fall is known as one of the largest waterfalls in Sapporo. In this area, you can see touch-me-nots and kinmizuhiki.
Furo Fall

Trillium, sweet woodruffs, and climbing hydrangeas are in bloom in the forest.